Saint-Pierre Foundation | France
Smurfit Kappa supports the Saint-Pierre Foundation by funding an interactive lab which uses the latest technologies to improve the health and rehabilitation of sick children.
For 100 years, the Saint-Pierre Foundation, a transformation of the Montpellier Children's Work, has set itself the mission of improving the health and protection of children, particularly in Occitania. They help tens of thousands of sick or disabled infants, children and adolescents.


Saint-Pierre is mainly publicly funded, but budgetary constraints and bureaucracy do not always allow for timely approval of ambitious, high-tech projects.

Grail is one of Saint-Pierre's biggest projects and stands for Gait Real-time Analysis Interactive Lab. It targets children featuring:
Accidental brain lesions
Diseases like cerebral palsy
Orthopaedic troubles following an accident
Amputations following a surgery or deformities requiring prosthetic devices.
Grail, first, implements an analysis that contrasts the actual gait to a normal pattern, highlighting the gaps while using innovative technologies:
3D movement recording
Double belt synchronized to the patient's gait
Step by step gait parameters recording
Electromyography
A virtual environment is created enabling the patient to move as in the real world, with real time, verifiable data collected, that can be feedback to the patient. The information is processed and visualized immediately and stored for further use. Changes in the belt set-up (pace, recline) make it possible to identify how the patient adjusts their gait and find a stable movement. The second main use is the patient's recovery, with the virtual reality and the data acquisition enabling the development of tailor-made exercises and remediation programmes.

The premise and equipment cost €500,000, of which the Smurfit Kappa Foundation has kindly donated €250,000, the largest donation yet made by the Smurfit Kappa Foundation, to help improve the lives of less-advantaged kids in France.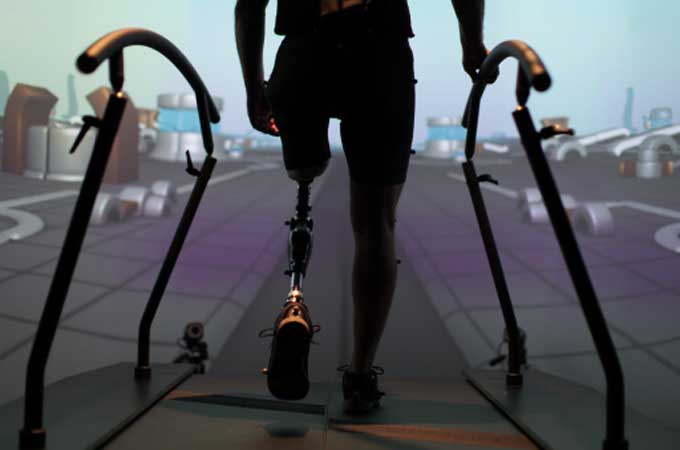 Need funding for your project?